New Product Reviews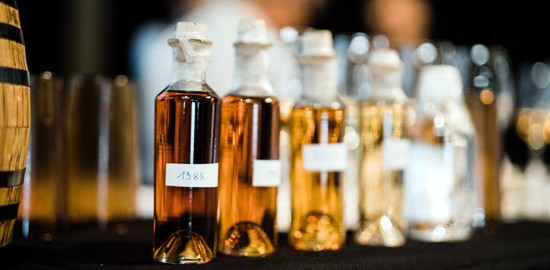 Listen to Paul Pacult's recent conversation with Mark Gillespie on the WhiskyCast podcast:
YouTube  |  Facebook  |  Twitter/Periscope
Read Paul's interview with Bob Guccione HERE
Listen to Paul's October conversation with Mark Gillespie on the WhiskyCast podcast HERE


Fpaulpacult.com utilizes the one-to-five star rating system.
Ardbeg Traigh Bhan 19 Year Old Islay SMSW (Scotland) 46.2% abv, $300.

Like so many Ardbeg expressions, the color is green-gold and olive brine-like; shows pristine clarity. Initial sniffs encounter fragrances akin to saline solution, smoked fish, iodine, medicine chest, and fresh pineapple, the last a curiously attractive characteristic; secondary nosings after more time in the glass find astringent aromas of creosote, oak resin/sap, tropical fruits, cigarette ash, and shoe polish. Entry is lean in texture, deeply salty, nougat-like and nutty; midpalate is sprightly, salty, peaty, more fresh tobacco-like and green than deeply smoky. This whisky's best moment is the silky, saline, sticky toffee finish.
F. Paul Pacult 2020 Rating: 
★★★★Highly Recommended
Boyd & Blair Potato Vodka (USA) 40% abv, $29.

Very good clarity. Wow, this aroma comes flying out of the glass in waves of white potato, starch, and parchment; seven more minutes of aeration don't greatly alter the aromatic profile, but there is a noticeable deepening of the established scents, especially the raw white potato element. Entry is nothing short of luscious, semisweet, chewy, oily, and smooth; midpalate adds cocoa bean, maple, and honey. Aftertaste is graceful, solid, and simply delicious. So sumptuous and tasty that it's spectacular neat. The best small-scale vodka in the world and the finest potato vodka available from anywhere. BRAVO! AN AWESOME ACHIEVEMENT FROM THIS PENNSYLVANIA DISTILLERY!
F. Paul Pacult 2020 Rating: 
★★★★★Highest Recommendation
Château de Lacquy Hors d'Age Bas-Armagnac (France) 41% abv, $80.

Saffron color; impeccable clarity. Ooooh, I like this biscuity, buttermilk pancake batter-like opening aroma that shows just a teasing whisper of baking spice (vanilla bean); with more air contact, the bouquet turns into an early morning visit to the bakery shop when all the cakes, pastries, and fruit turnovers are fresh and hot; a Bas-Armagnac dazzling aroma. Entry is drier than the aroma promised, as the taste profile offers oaky/resiny flavors that underscore the grapiness; midpalate echoes the entry in its bittersweet approach and adds light touches of cinnamon stick, sugar glaze, and almond paste for kicks. Concludes long, medium-weighted in texture, balanced, and keenly tart.
F, Paul Pacult 2020 Rating: 
★★★★Highly Recommended
Dewar's 8 Year Old Ilegal Smooth Mezcal Cask Finish Blended Scotch Whisky (Scotland) 40% abv, $22.

Jonquil yellow color; very clean. Opening nosing passes detect fruity, tart, slightly salty aromas that do have a touch of agave pineapple-like aspect to them; secondary whiffs turn a bit sweeter as the fruit component goes riper and more compote-like. Entry provides a pleasing melange of barley spirit flavor mixed with oak resin and agave smokiness; midpalate turns up the volume on the malted barley grain element, which extends deep into the medium-long aftertaste. Had my doubts as to whether or not this idea would work but it does. Nevertheless, Scotch purists beware!
F. Paul Pacult 2020 Rating: 
★★★Recommended
Fortaleza Blanco Tequila (Mexico) 40% abv, $48.

Pristine clarity; silvery appearance. Upfront aromas include agave syrup, grilled green chili peppers, lead pencil, terra cotta, and shallot; later sniffs expand the olfactory scope, adding verbena, lemongrass, parsley, and green melon; a lovely, expressive bouquet. Entry is keenly bittersweet, deeply vegetal, and vivid with tastes of agave syrup (still!), carbon/charcoal, seared meat, grilled pineapple, cabbage, and minerals; midpalate echoes much of the entry findings, throwing in traces of black pepper and carob, but the big story at this juncture is the creamy, viscous texture that coddles the palate. Aftertaste is notable for its elegance, rich feel, and its moderately spiced and zesty parting flavor. A rustic style that is straight out of the 1980s when 100% agave tequilas were bountiful and true in their reflection of agave, not mere paper thin suggestions as so many are these days.
F. Paul Pacult 2019 Rating: 
★★★★★Highest Recommendation 
Larceny Barrel Proof Batch-B520 KSBW (USA) 61.1% abv, $50.

Burnt orange color; impeccable purity. Upfront aromas are slightly burnt, salty, grainy and almost white flour biscuit-like; secondary passes pick up scents of caraway seed, vegetable oil, tomato vine, and black peppercorn. Entry features pleasant, throat-warming flavors of semisweet chocolate, cocoa bean, black coffee, and dark caramel; midpalate carries on the candy shop taste richness and intensity as the abv is never an issue and this hearty whiskey can therefore be enjoyed straight without the addition of mineral water. Finish is long, chewy, tight, and semisweet.
F. Paul Pacult 2020 Rating: 
★★★★Highly Recommended 
Scapegrace Gold London Dry Gin (New Zealand) 57% abv, $60.

Colorless as rainwater; flawlessly pure. Initially, I pick up aromas of black peppercorn, pumpkin seed, caraway seed, and arid landscape, with the juniper berry component kept at a distance; the reluctance of the aroma to offer anything of substance disturbs me so I decide to press forward. Entry at last touts a minor role for the juniper berry oil but that role is as a supporting character to the lead player, the tart taste of citrus peel; midpalate is this gin's best moment as the juniper finally takes its turn at bat and gets a solid hit. Finishes medium long, neither abrasive nor hot (considering the high abv), and with a bit of finesse. Pricey though.
F. Paul Pacult 2020 Rating: 
★★★Recommended