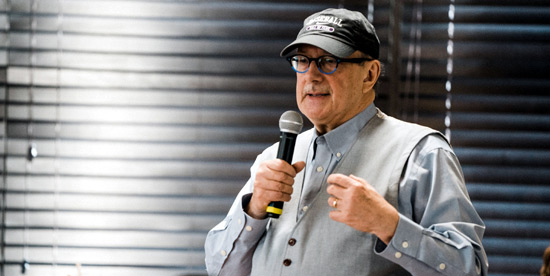 F. PAUL PACULT 
has been called "…an all-knowing spiritous oracle, a J.D. Powers of liquor" in a recent Imbibe magazine and "America's foremost spirits authority" by Forbes.com, F. Paul Pacult was recently the publisher/editor of F. Paul Pacult's Spirit Journal. Paul Pacult's Spirit Journal, founded in 1991, was a subscription-only, advertising-free quarterly newsletter that was recognized as the world's premier independent source of spirits reviews and evaluations. In 2019, F. Paul Pacult's Spirit Journal was placed on hiatus in order to give Paul, the author of several seminal beverage alcohol books, the space and time to write two new books: 
The New Kindred Spirits: More Than 2,000 New Reviews of Whiskeys, Brandies, Rums, Gins, Tequilas, Mezcals, Vodkas and Liqueurs From F. Paul Pacult's Spirit Journal (Matt Holt Books/BenBella Publishing – release date May 25, 2021)
Buffalo, Barrels & Bourbon: How Buffalo Trace Became The World's Most Awarded Distillery
(John Wiley & Sons – release date September 8, 2021)
Since 1989, when Paul began writing about distilled spirits, he has formally reviewed more than 31,000 whiskeys, brandies, agave spirits, gins, rums, liqueurs and more.
AWARDS & ACCOLADES:
Life member and Master of Keepers of the Quaich whisky society (Edinburgh, Scotland)
Life member of Kentucky's Bourbon Hall of Fame (Louisville, KY)
Life member of Kentucky's Order of the Writ whiskey society (Louisville, KY)
Life member of France's Compagnie des Mouquetaires d'Armagnac (Company of Armagnac Musketeers; Gascony, France)
Cognac International Personality of the Year 2011 (Cognac, France)
Cheers Conference 2012 trophy for "Raising the Bar" in spirits education.
In July of 2007, the company Paul co-founded Beverage Alcohol Resource LLC in 2005 won the Cheers 2007 Innovator of the Year Award.
PREVIOUS BOOKS:
Kindred Spirits 2: 2,400 Reviews of Whiskey, Brandy, Vodka, Tequila, Rum, Gin, and Liqueurs from F. Paul Pacult's Spirit Journal 2000-2007 (Spirit Journal, Inc., 2008)
A Double Scotch: How Chivas Regal and The Glenlivet Became Global Icons (John Wiley & Sons, 2005)
American Still Life: The Jim Beam Story and the Making of the World's #1 Bourbon (John Wiley & Sons, 2003)
Kindred Spirits (Hyperion, 1997)
The Beer Essentials (Hyperion, 1997).
Paul was also one of thirteen international journalists who contributed to Michael Jackson: Beer Hunter, Whisky Chaser (2009).
JOURNALISM:
From 1982 to 2009, he contributed to scores of national and international publications, including Playboy, Wine & Spirits Magazine, Cheers, Connoisseur, MarketWatch. Travel & Leisure, Men's Journal, Beverage Dynamics and many others. Most prominently, for 17 years he wrote about spirits, cocktails, travel, and wine for the New York Times Sunday Magazine; was the Sky Magazine wine/spirits/cocktail columnist for 13 years for Delta Air Lines; and for 9 years was Wine Enthusiast's spirits columnist/spirits tasting editor. 
CONSULTING, EDUCATION & PUBLIC SPEAKING:
Since the mid-1990s, through Spirit Journal, Inc., Paul and Sue have consulted to a Who's Who list of the beverage alcohol industry's largest and mid-size mainstream and smallest craft companies on product development and improvement. Since the 1990s, Paul has helped to discreetly create and improve scores of whiskies, brandies, vodkas, liqueurs, rums, gins, tequilas, and mezcals, many of which are now considered top shelf SKUs.
Since 1996 Paul has hosted Spirit Journal, Inc.'s Primary Liquids educational training program for mainstream and craft beverage and non-beverage companies throughout the United States, as well as Europe. Paul also hosted the tasting series in New York City, the Masters Series at Keens Steakhouse, for over 20 years.
Paul was the creator and presenter of the THE RUM AUTHORITY, THE WHISKEY AUTHORITY and THE BRANDY AUTHORITY educational initiatives, all sponsored by Spirit Journal, Inc. The "AUTHORITY" series operated from 2012-2018.
In 2019 Paul became Master Blender for Palm Bay International's whiskey project, Jacob's Pardon American Whiskey.
COMPANIES:
In addition to establishing Spirit Journal, Inc. with Sue Woodley in 1991, Paul is a founding member, along with Steve Olson, Dale DeGroff, David Wondrich, and Doug Frost, of the award-winning spirits and mixology training company, Beverage Alcohol Resource LLC (BAR-2005). Together, they teach the highly respected BAR 5-Day Program of Spirits & Mixology. Additionally, BAR, in conjunction with Pernod Ricard USA, taught over 40,000 bartenders across the world through the BarSmarts Advanced Training Program, which ran from 2008-2019.
Paul is likewise a founding member, along with Sue Woodley and David Talbot, and is judging chairman of the spirits competition company Ultimate Beverage Challenge LLC (UBC-2010). 
RADIO & TELEVISION:
Sue produced and Paul co-hosted two nationally syndicated radio shows, The Happy Hour with Paul Pacult and Gary Regan (1996-1998) and Paul Pacult's Good Life (1999-2000). Paul appeared in two landmark History Channel documentaries on beverage alcohol.