Buffalo, Barrels, & Bourbon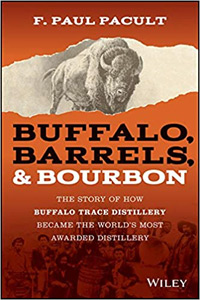 In Buffalo, Barrels, & Bourbon F. Paul Pacult tells the breathtaking saga of Buffalo Trace Distillery, the world's most awarded whiskey distillery. Beginning at the low-lying banks of the Kentucky River that would eventually become the site of Buffalo Trace, Pacult's new book spans centuries of colorful history, from the first explorations by Euro-Americans and the founding of the state of Kentucky to the modern era of American whiskey distilling that dawned in Kentucky in the late 1870s.
Buffalo, Barrels, & Bourbon brims with the stories of Kentucky's most fabled whiskey men – E.H. Taylor, Jr., George T. Stagg, Albert Blanton, Orville Schupp and Elmer T. Lee – whose distilling contributions helped to make Buffalo Trace Distillery what it is today.
"An immediate classic," praised noted whiskey writer and author Clay Risen.
"With Buffalo, Barrels, & Bourbon, Paul Pacult continues his reign as America's finest whiskey scribe," said author Dan Dunn.
"There were no maps to guide the pioneers along those trails, but in Buffalo, Barrels, & Bourbon, Paul has provided an excellent map to the trail of one of Kentucky's legendary distilleries," lauded Mark Gillespie, host/producer of WhiskyCast.